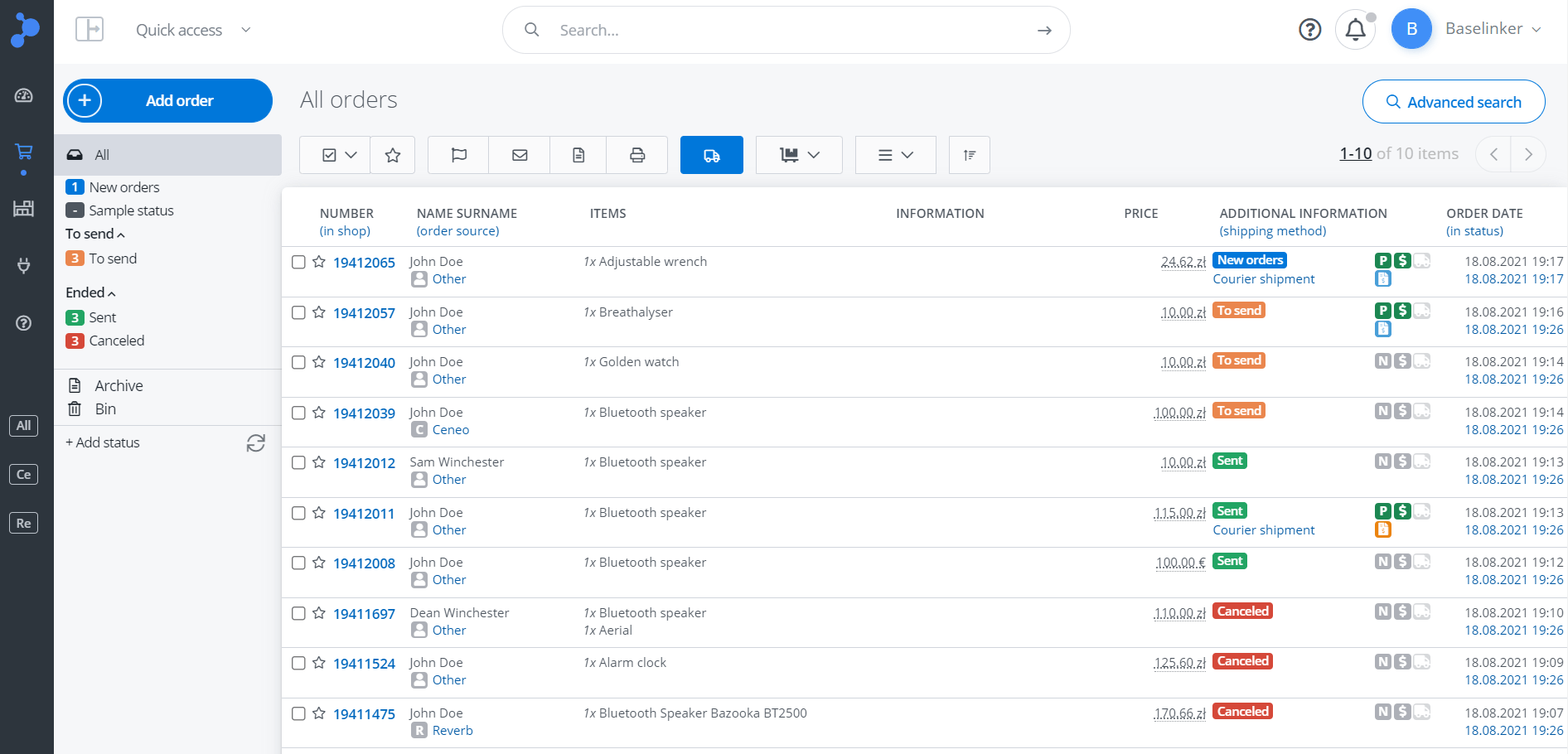 ---
Basic view
The order list in the Manager allows you to view, search, and filter orders, move them between statuses or create documents and reports.
The list allows you to assess at a glance at what stage the order is. In this place you can find the following information:
order number in BaseLinker and order number in the store,
client data – name and surname, country of dispatch (in section Orders  →  Settings  → Order List  → Flags you can disable the flag view),
order source (Allegro/eBay account/online store etc.) and customer's login,
products and links to offers on the marketplace,
iconographical information: delivery form, payment, invoice, shipment, etc. When you click on an icon, a full description will be displayed. In Orders  →  Settings  → Order List you can configure the size of the icons visible in the order list

Additional information – optionally, you can adjust the Order list view and enable extra column in section Orders →  Settings  → Order List  → Additional Column (not recommended).
Price and currency,
order status,
date and date of transfer to current status.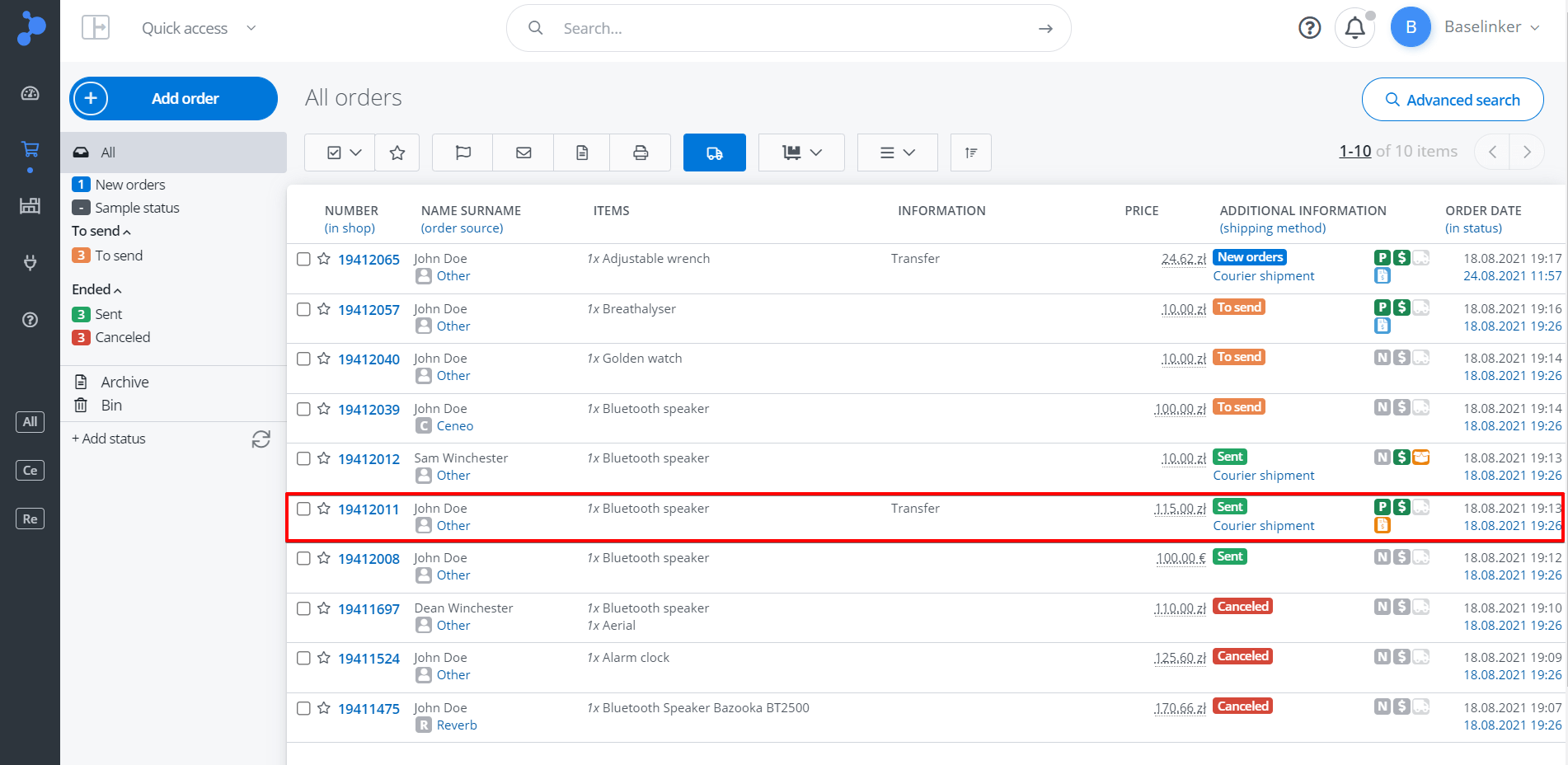 ---
Operations
From the order list, you can primarily perform operations in bulk:
transfer of orders between statuses,
send e-mail and SMS,
issue invoices and receipts,
create printouts: mailing lists, order cards, reports, statements, exports, and more; the settings of the prints can be found in the section Orders → Printous and Export. In this section, you can decide which prints are to be displayed in the order list – select only those you use 🙂
create and print labels – select orders and click the blue car icon,
print shipping manifest,
order merging, order deletion,
requesting reimbursement of Allegro commission.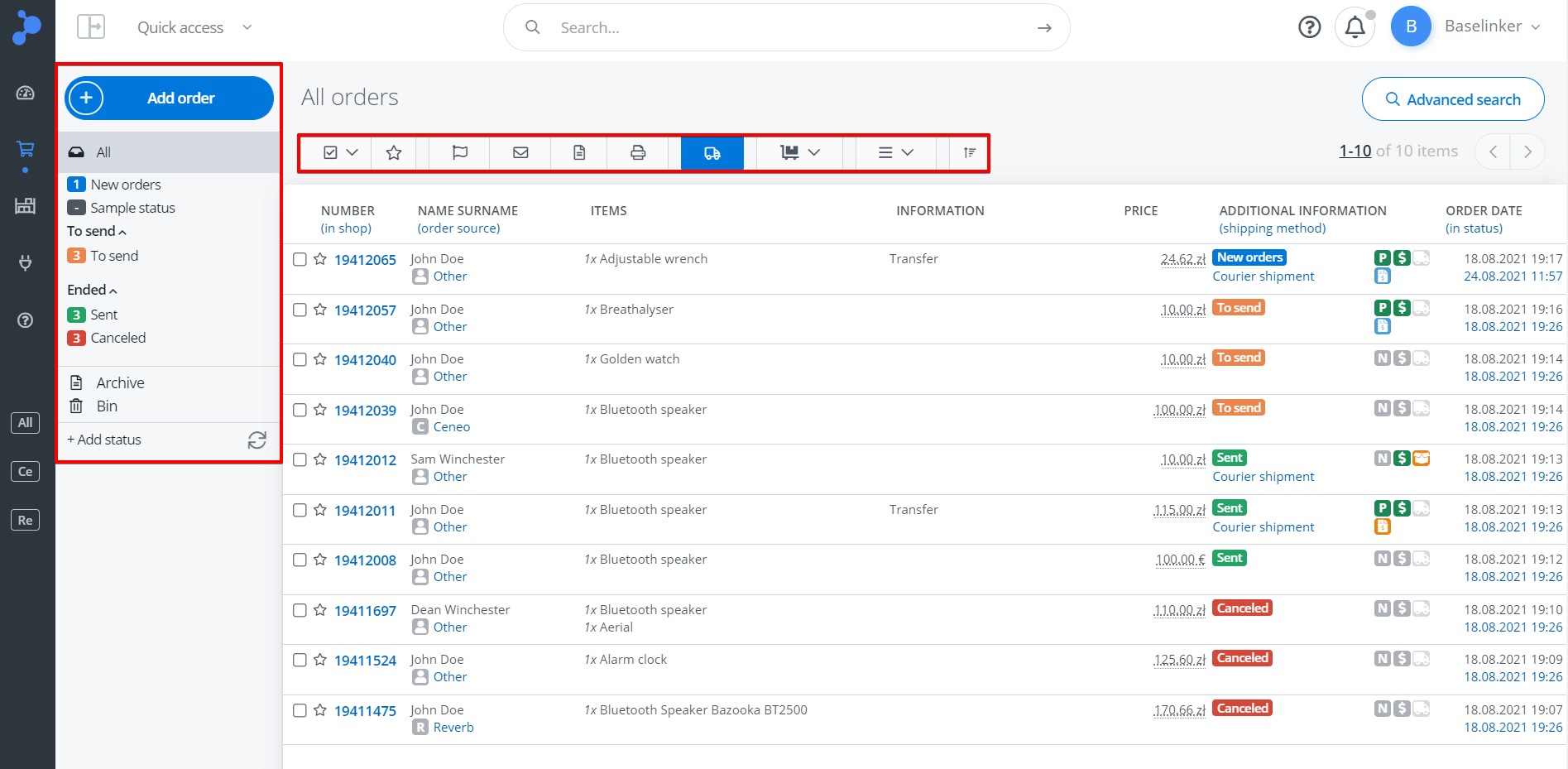 ---
Advanced search
Under the "Advanced Search" button, located in the top right-hand corner of the Manager, you can set detailed filters for displaying orders.
The most commonly used options are:
displaying more orders on a page – this is useful not only for order handling itself but also for generating various prints and exports, e.g., the export of customers e-mail addresses or printout of a sales report; the maximum number of orders that can be displayed is 1000,
filtering by shipping method,
filtering by payment method, and also by payment status,
filtering by source,
displaying multiple statuses at once – this can be done in "advanced search" by holding down the CTRL key,
filtering according to buyer's data, delivery address, invoice information, FOD, submission dates, according to comments, prices, and others.