BaseLinker integrates various e-commerce platforms and automates processes in your business!
BaseLinker helps you increase the scale of your business.
You can easily expand the list of distribution channels with additional marketplace platforms, put up more listings and be prepared to fulfill even more orders in a shorter time and with fewer errors  🙂
A properly configured system remembers the price list, template, or category assigned to the product, maps the relevant parameters and assigns additional information – such as warranty information, imposed margin, etc. Thanks to this, you can list auctions in bulk with just a few clicks!
All actions related to processing the order are done in one place – in the BaseLinker panel, without the need to log in to any marketplace account, online store or courier account separately.
A properly configured system can: collect the order; note the correct payment; transfer orders requiring additional attention to a separate status thanks to automatic actions, and for the remaining ones issue an invoice and send the parcel in the courier system via the API; send selected documents to the connected printer and then send to the customer "thank you for shopping" SMS or e-mail along with a tracking details and attachments – e.g. invoice. The message can also contain a link to the individual order page, where all the information needed by the customer are collected.
System can leave you with nothing but to pack the order together with the printed sales document and stick the label. These actions can also be completed faster using a special "Packing assistant" module and connected barcode scanner. You can also delegate this task to your employee – all you have to do is create a separate BaseLinker profile and assign the selected permissions. A nice surprise for your customer may be the possibility of taking a picture of a packed package in the module.
In the background, BaseLinker takes care of the synchronization of stock levels between different marketplace platforms, as well as send order statuses and shipment numbers to selected platforms. In addition, the system may finish auctions and offers with zero inventory. It can even automatically resume completed auctions and offers as soon as the product appears again in the warehouse!
What exactly does the BaseLinker offer?
Over 100 integrations:
over 10 popular marketplace platforms – incl.

Allegro, eBay, Amazon, Buy on Ceneo, eMAG, Arena, OLX and many others,

over 30 online store platforms – including

PrestaShop, Shoper, WooCommerce, Magento, ShopGold, SkyShop, IAI, ClickShop, Shoplo and many more,

over 50 carriers, brokers and logistics operators offering shipments in Poland and worldwide,
6 popular accounting programs – Fakturownia, Firmao, iFirma, inFakt, wFirma, Fakturowo,
2 applications for cloud printing – Google CloudPrint and PrintNode,
an application for printing receipts "Paragons – Fiscal Printer",
applications for sending SMS to customers- SerwerSMS and SMSAPI,
other applications supporting the work of the seller – Thunderbird, Slack,
comprehensive API for creating your own integration with the BaseLinker system.
This way you can do most activities from the panel level, without logging in to each marketplace account, store, courier system, etc. separately.
Full order management from one place
automatic collection and sorting of orders to specified statuses, automatic recognition of payments, types of shipments and payments,

sending parcels with a few clicks, downloading labels and shipping manifests,

convenient issuing of invoices, sending invoices to customers, optionally exporting invoices to online accounting systems,

import of bank transfers and COD-s from carriers,

a comprehensive printout and export editor that allows you to create almost any printout or export yourself,

printing documents using a connected printer,

printing of receipts using a connected fiscal printer,

sending e-mail notifications and SMS,

the ability to send customers links to individual order information pages and the possibility to create your personal page layout,

Packing Assistant Module – support of the packaging process,

the ability to create employee accounts and give them selected permissions,

a statistics panel on sales, customers, products, and employees
Automation of the order fulfillment process
Each order you can process:
individually from the Order card level,
in bulk from the Order list,
without your participation, thanks to the combination of Auto Actions and Order Statuses.
Automatic actions are the heart of the entire Order Manager module. Their construction is based on the principle: If event A occurs, provided B, then perform action C.
Based on adequately defined rules, the system itself transfers the order to the appropriate status, add a package, issue an invoice, print necessary documents and send an e-mail and SMS to the customer.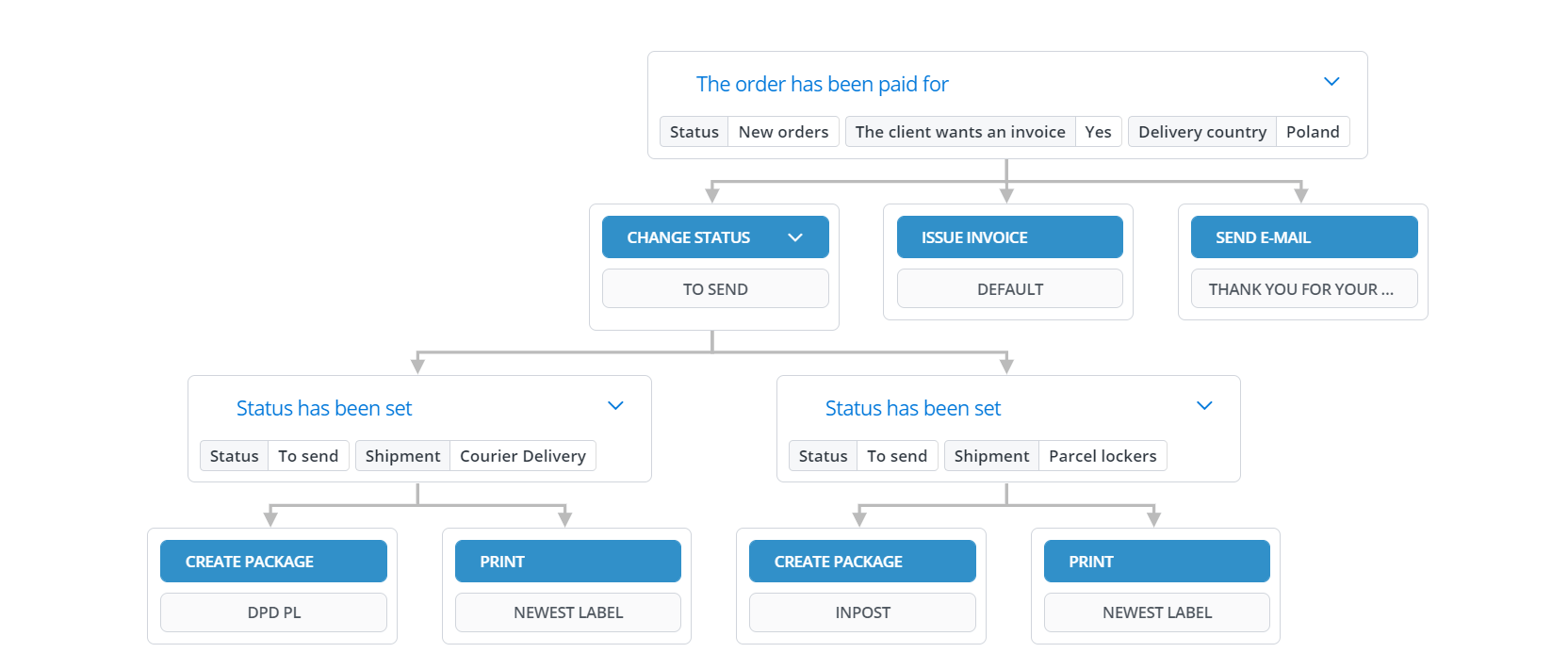 Listing of auctions and offers in bulk with a few clicks
displaying products from the warehouse of each connected online store, from a warehouse, an ERP system or from the built-in BaseLinker magazine on auctions with a few clicks,

support of personal auction templates,

the ability to assign price lists, templates, categories and other settings to individual products or product categories from the warehouse, or even to the entire marketplace account,

parameter mapping,

easier transfer of Allegro auctions to other platforms,

bulk changes on ongoing Allegro auctions,
Synchronization and automation
automatic deduction of inventory after purchase,

automatic stock update at the auction and on offer,

price synchronization at auctions,

automated offer finishing of products with zero balance in the store,

automatic offer renewal of products reappeared in stock,

competition prices tracking – as a bonus 🙂
Security for your business
Uninterrupted access to data. Because all data is stored in the cloud, you have access wherever the Internet reaches. You do not have to worry about the theft or failure of your computer. In such cases, your data is available immediately from another computer.

Secure login. A login and password protect each user's account. The password is stored in encrypted form (hash) – in the case of losing a password, it is only possible to set a new password. It is not possible to recover the password based on its coded form. Also, you can restrict the ability to log into your account only to selected IP addresses, as well as use double authorization.

Backups. Twice a day, all data entered into the system is backed up.

Technical Support. Service activities are carried out immediately in the event of any irregularities in the operation of the server or network infrastructure.

System update. In the case of changes in external systems with which the system is integrated (e.g. Allegro.pl service), the application is adapted to the current requirements of these websites immediately, to ensure continuous operation of the system with the least possible interruptions.
Free trial period
New users always are granted with a free 14-day trial period. This period is automatically activated on the newly registered account. The test period does not involve any fees or obligations.
The test period functionalities are not different from those on a full-paid account. All its functions and integrations are available. During the trial period, you can decide if you want to continue using the system.
We encourage you to create a BaseLinker account and test all its functionalities:
Thanks to the process automation that BaseLinker provides, you will increase the efficiency of your company's work and you will be able to develop it even faster! 🙂