Due to the integration of Allegro's API, information about the estimated shipping and delivery time is also displayed in BaseLinker. This functionality will assist you in timely order fulfillment, resulting in improved sales quality and customer satisfaction.
These pieces of information are visible on the order card, under the Additional Information section (below the transaction number).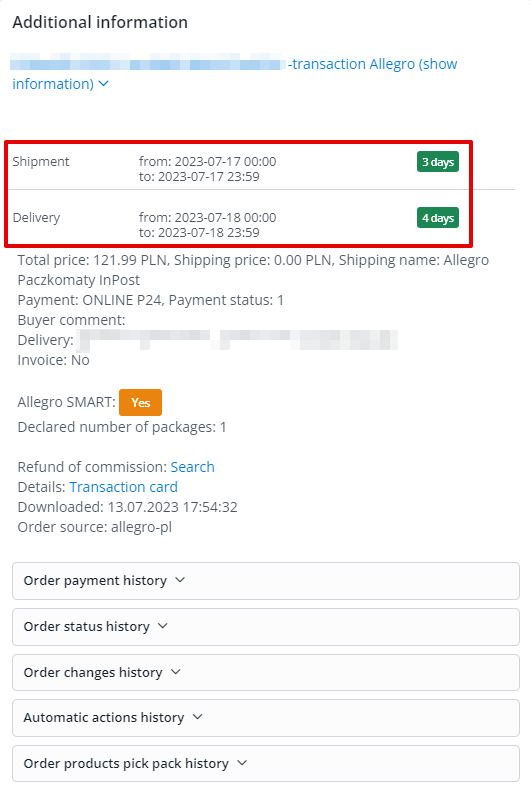 For both parameters, the Allegro API returns a range of dates from – to. The tile with the number of days (green, orange, or red) indicates the time remaining until shipping/delivery. It is calculated from the current time relative to the "to" value.
The displayed dates may differ from the ones declared by you in the auction. For example, if you have set the declared shipping time as 3 days, the estimated time based on your previous order fulfillment may be returned as 2 days.
Automation
In the system, there are also conditions for automatic actions based on:
shipping time to

:

≥ x days ≤ x days;

delivery time to

:

≥ x days ≤ x days.
By utilizing these conditions, you can automatically filter orders based on any predicted shipping and/or delivery time. This allows you to streamline your order management process by categorizing and handling orders based on their estimated shipping and delivery timeframes.

The action can be used, among other things, to move orders with an estimated shipping time of today to a selected status. Utilizing automation will help you quickly filter such orders and proceed with their timely fulfillment. This way, you can efficiently prioritize and manage orders with same-day shipping to ensure prompt processing.

Absolutely, the aforementioned action is just an example, and it should be customized according to individual needs. The flexibility of the system allows you to adapt and configure the automation actions to suit your specific requirements and workflows. You can define various conditions and actions based on your unique business processes to optimize order management efficiently.