The system supports all printers from Posnet manufacturer as well as other manufacturers compatible with the Thermal protocol.
The plugin requires a printer integration program to function properly. In this regard, you can utilize our internal and free BaseLinker Printer plugin.
Alternatively, currently there are two providers offering such a program:
You can either carry out the installation yourself, following the instructions or have it installed by the provider of each integration.
The module can be enabled in section Integrations → Add integration → Other → Receipts – fiscal printer → Activate.
After activating the plug-in, a new button is visible on the order tab, creating a receipt. It is located above the button generating the invoice and has a similar action.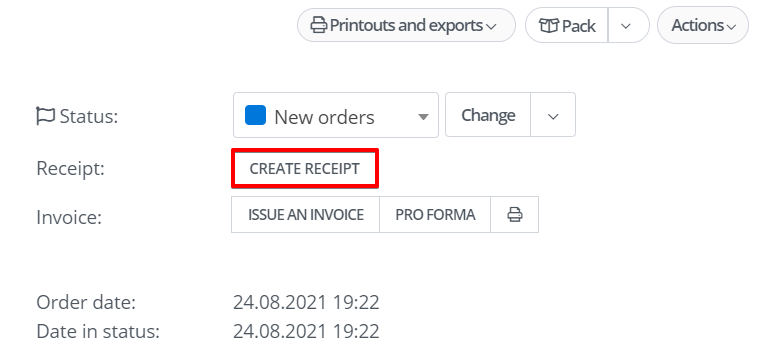 You can generate receipts individually from the order card, in bulk from the order list, or automatically using automatic actions.
When a receipt is created in BaseLinker, it automatically sends a command to the fiscal printer to print the fiscal receipt.
There are no additional costs associated with using this plug-in in BaseLinker. A one-off fee for the external program is charged by the creator of external integration.