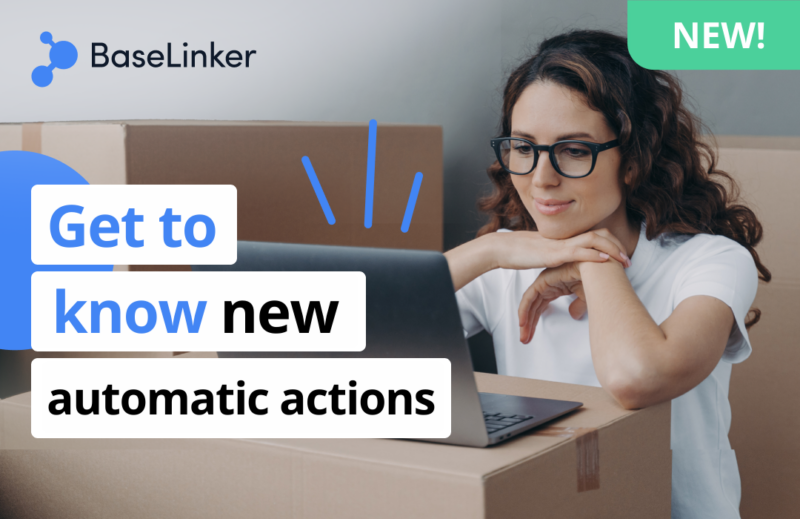 We are launching a bunch of new functionalities that many of you have been waiting for. All of them were created thanks to your suggestions on our forum – idea.baselinker.com. These were some of the most popular ideas voted for by hundreds of merchants, so we are confident that they will serve a wide range of users 🙂.
All new features are based on our automatic actions system – to give you the utmost control and flexibility in their use. In the article, we list exemplary uses for the new features, but we are convinced that you will find many other applications for them. The power of automatic actions is the freedom to build your personalized processes.
Marking a Returning Customer

Over 100 of your votes on the BaseLinker suggestion page went to functionality related to returning customers. Therefore, we added a new condition for automatic actions, checking whether the customer has made another order before. You can select a defined time range: 10 and 30 minutes; 1, 3, 8, 24 hours; 2, 3, 7, 14, 30, 60 days.

Example of use:

Change of status when a customer places several orders on one day (in any channels) to send it in one package.
Marking the order with a star if the customer made another purchase in the last 2 months, to know that you are dealing with a returning customer.
Event Delays, Time Interval Between Actions

Another feature that many users have been waiting for. A new mechanism in automatic actions allows adding a delay from 1 minute to 60 days. The delay can take place at any time during the execution of an action (also in the middle of the action, e.g. between status change and email sending an email).

Example of use:

Sending a 'thank you' email automatically 24 hours after delivery.
Issuing an invoice 3 hours after placing an order (most order cancellations occur shortly after purchase).
Pop-ups for Warehouse team members, Interface Actions


Until now, automatic actions ran only in the background and weren't visible in a browser window. So, we added several new actions that allow to:

Display a message on the screen
Move to the next order
Take a picture of the package
Open PickPack assistant
All of the above actions can be performed in the open order manager window. One of them allows displaying messages on the screen, so your employee can be automatically informed or warned.
Example of use:
Creating an alert for employees to provide important information while packing a specific product.
Displaying a message in the event of a significant problem with an order.
Moving to the next order after a selected event occurs in the PickPack assistant.
VIES – EU VAT Number Confirmation

Another popular suggestion is live. The feature connects to the VIES system to verify the validity of the European VAT number. This is particularly useful when invoicing clients from the EU. Verification can be performed independently on the order card (new button) or used as a condition for automatic action.
Example of use:
Issuing an invoice with a VAT rate of 0% if the EU VAT is correct, or with a rate of 23% otherwise.
Triggering Custom Event

Create more effective and advanced sequences of automatic actions. Define a custom event and then create an automatic action that triggers it. This function allows you to generate complex sequences of automatic actions using conditional logic (if / else).
Example of use:
There are several places where you could initiate the creation of a parcel. Instead of creating indirect statuses, create a custom event, e.g. "Generate parcel" and hook it up to selected system events.
Custom Event After Error

We added a new option, allowing you to define what will happen if an error occurred while triggering an automatic action. The solution supports easy interception of errors that may occur in various actions (e.g. when creating a package, invoice, or printing).
Example of use:
Change order status and send an alert on Slack in the event of an error in generating the shipping labels.
New Conditions and Actions
Based on your suggestions, we have also added several new, smaller conditions and actions:
Payment status – overpayment and underpayment
Order value – the cost of products (excluding shipping cost)
The number of pieces of a specific product (SKU)
Date comparison – compare with specific dates, compare relatively
Action to change the company name and surname in the order (Modify order → Delivery data – company / Delivery details – first and last name)
Action to change an additional checkbox field by adding an option (instead of overwriting) (Modify order → Additional field → Value type → Fixed values (append))
Optimising your List of Automatic Actions
Many of you use automatic actions heavily, creating hundreds or even thousands of them. Therefore, we have launched additional improvements to the automatic actions table itself. The large number of actions are now collapsed by default, and their unfolding loads actions on the fly (not all actions are loaded initially and the web browser works faster). To facilitate work with numerous actions and to promote dividing them into groups, you can now enable or disable an entire group of actions.
We encourage you to submit your ideas on our suggestion forum – we monitor them every day and try to implement them as soon as possible 🙂.