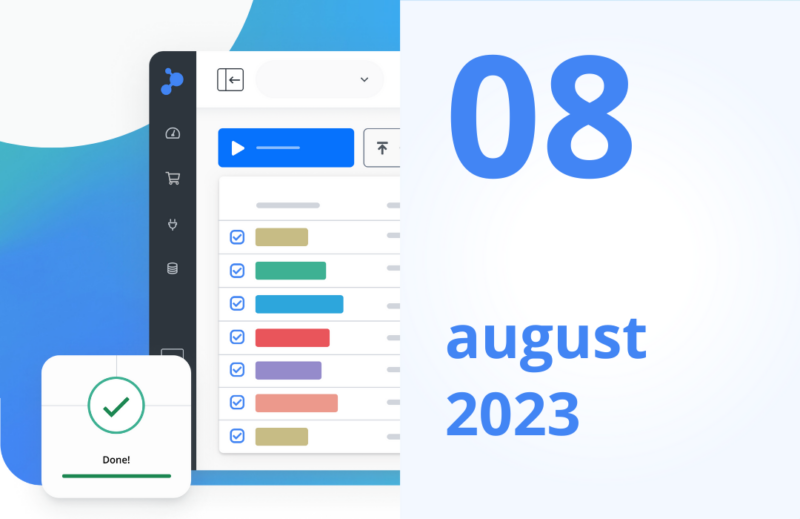 BaseLinker is being extended with new modules, features and options every day. Below is a list of the modifications made in August. The most important updates are described in separate blog posts as they are implemented.
Product Manager and Order Manager:
[AI] Bulk generation of channels data in products
[Automatic actions] "Call personal event" action
[Automatic actions] Option for relative comparison of dates in the condition for additional field of date type
[Automatic actions] Ability to call a personal event after an error occurs when executing an automatic action
[Automatic actions] Collapse/expand all groups
[Inventory] Sort inventory product (variant) images by position
[Invoices] Finnish language
[Products] Character counter when changing product name
[Products] Mass SKU generation
[Products] New filtering options for checkbox fields
[Products] Change informations shown for product's documents
[Warehouse] Option for changing the date of purchase order currency exchange
Marketplace Manager:
[Marketplace] Added option in connector based integration to mark marketplace order as canceled when downloading orders
[Marketplace] Fix mapping fields data if fields name has special characters
[Marketplace] Move default marketplace account options from bottom to top
[Marketplace] Validate URL in description only if HTML is allowed
Integrations – Marketplace:
[Allegro]
Automatic repricing
[Allegro] Searching by auction number in main search bar
[Alza] Filling buyer name with "Alza" when order positions contains BCX codes
[Alza] Handle offers with quantity lower than zero when sending availability
[Alza] Sending BCX codes with package data (where it's necessary to be sent)
[Amazon Vendor] Getting orders fixes
[Amazon.be] Getting thumbs fix
[Amazon] Getting ASIN numbers for FR market on import offers
[Amazon] Listing form variants fix
[Americanas] Bulk operations, update price, update stock, update name
[Americanas] Handling API limits, for example on download orders
[Americanas] Order card, show source market/site nearby transaction id
[Americanas] Redirect to offer
[ApteGo] Add new production URL
[Aukro] Add SKU in import offers
[Backmarket] Fix downloading orders (WrongDateFormat)
[Backmarket] Mark package as shipped (if already shipped)
[Bandquk] Verify title by regexp pattern
[BigBang] Initialize marketplace
[Compari] Add new categories  "Constructie, renovare", "Pompa de circulatie", "Pompa, hidrofor"
[Ebay] Buy now price fix on listing auctions
[Ebay] Strikethrough prices (discounts) support
[Ebay] pPrameters with & in name fix
[Emag] Add method updateNewOfferStatus (updating new offer status)
[Emag] Fix reading delivery point id and name for pickup delivery mode
[Emag] Getting delivery point id from street field
[Emag] Refreshing categories and parameters every day
[Empik] Allow downloading unpaid orders
[Etsy] Fix sync price/quantity with different variant configurations
[Favi] Price and stock sync
[Heureka.sk] Improved delivery methods assignment to imported offers
[Heureka] Update list of delivery methods
[Home&You] Initialize marketplace
[Intermarché] Initialize marketplace
[Kaufland] Fix generating configuration file for idosell webhoook
[Kiabi] Initialize marketplace
[Magalu] Improve authentication
[Magalu] Improve offers import
[Magalu] Send additional parameters (from details)
[Marketplaces][addOrderPackages] Forwarding more than one package to matketplace
[MediaMarketSaturn] Change marketplace default language to DE
[Meli] Bulk operations, update price, update stock, update name
[Meli] Default unit for weight, height, width etc
[Meli] Import variants offer, do not duplicate main offer
[Meli] Improve assign Company ID on invoice data
[Meli] New bulk operation – update "Sends in"
[Meli] New listing form parameter – condition
[Meli] Redirect to offer
[Mirakl] Allow settings "multiple values separator" and "csv delimiter" as seller integration settings
[Mirakl] Order transaction number quick search
[OLX] Fix disappearing thumbs
[OLX] Offers with "limited" status waiting in queue instead of moving to errors tab
[OLX] Update categories
[OTOMOTO] Integration settins – new option, block offers without images
[Otto] Change brand field to new brandId required field
[Otto] Order transaction number quick search
[Pigu] Update for direct seller types – proper shipping cost parsing in orders
[Pigu] Updated order invoice data parsing when downloading orders (now invoice is market as wanted if invoice data contains VAT code or company code)
[Skroutz] Fix download categories
[Skroutz] Fix encoding special characters in XML
[Skroutz] Set default currency EUR
[Sprzedajemy] Add theme support for creating item
[VeloMarket] Add new connector Marketplace VeloMarket
[Via Varejo] Delete offers
[Via Varejo] Import offers
[Via Varejo] New field on listing form – warranty
[Via Varejo] Order card, show source market/site nearby transac
[Wowcher] Fixed adding order package action
[Wszystko.pl] Fixed offers deactivation when offer price falls to zero
[Zalando] ZFS orders, do not decrease stock in storage
[Zalando] present more details about errors on offer management
[Zbozi] EAN field is optional
Integrations – Accounting:
[Eccosys] New option to automatically forward newly created invoice to SEFAZ
[Invoicing] Payment due date no longer displays on receipts
[Oblio] New option "send products as services".
[SevDesk] Added option to allow automatic mapping of invoices with clearing accounts
Integrations – Couriers:
[Allegro Courier] Fix selecting (relative to the position in the list) the first WZA account connected to the selected Allegro account
[Americanas Entrega] Refactor to full functionality, package creation, label printing, tracking
[BL Paczka] New service BLP Cross-Border Economy DE
[Cargus] Adding a field to define a reference number (visible on the label)
[Ceska Posta] Fixes when downloading recent tracking statuses
[Ceska Posta] Improving the transmission of the recipient's name when sending parcels to a collection point.
[Coorreios] Start downloading shipment statuses
[DHL DE] Fix billing number verification
[DHL] Adding the option to return europallets
[DPD CZ] Improvement of the sending of parcels to the collection point (removal of the requirement to mark the additional service).
[DPD PL] Requiring customs clearance only for shipments to the UK and Ukraine
[DPD] Fix round package weight in courier pickup
[DTS/Advanced] Added Remarks field (printed on documents) and Value (monetary) fields for each sub-package
[Epaka] Corrected transmission of recipient's address data with leaving Latin characters
[Fedex] Fix in additional services and parcel pricing
[GEIS] Change of the old DR service to the new PEP service
[GLS] Fix for tracking link when package is added manually
[Inpost UK]
New integration
[Landmark] Adding new fields in account settings for IOSS, RGR, EORI numbers
[Magalu Entregas] Enabling the sending of shipments, generation of labels and manifests, and updating the status of the shipment in the order
[Mercado Envios] Refactor to full functionality, package creation, label printing, tracking
[Pigu] New courier integration
[Poczta Polska] Added customs declaration for unregistered shipments (letters)
[Poczta Polska] Added error message when trying to send a package with the option of sending in an office, without specifying the office of sending
[Poczta Polska] Added EMS service, changes in descriptions of customs declaration fields, added method to allow printing labels after closing the collection
[Royal Mail] Added omission of products (packages) with value (monetary) equal to 0 from customs declaration
[Royal Mail] Fix for downloading information from the tracking, the change solved the problems with the lack of execution of Automatic Actions against the status of Royal Mail shipments
[Royalmail C&D] Update of available and current services (codes and names)
[Sameday] Fix for selecting checkbox in automatic actions form
[ShipStation] Added option to select weight and dimensions as imperial units
[Swiatprzesylek] Fix for setting return package correctly
[Słowacka poczta] Fixes in parcel boxes
[UPS] Fixes in displaying error messages returned from API
[WeDo] Adding status update functionality
[Zasilkovna] Tracking link fix
Integrations – Online shops:
[Magento] Optional parameter for retrieving store orders in base currency
[PrestaShop] Synchronizing external images (hosted outside Prestashop) with product data
[RedCart] Parameter og_oids for on-demand synchronization of specific orders
[SkyShop] Importing historical/not synchronized orders via og_oid
[SkyShop] New parameter, block_pqu, disabling synchronizations of stock quantities from BL to Skyshop
Integrations – Wholesalers:
[Autopartner] New integration
[Canagri] New integration
[Happytime] New integration
[Horstsc] New integration
[Primohurt] New integration
Integrations – Other:
[BaseLinker Connect] Option to upload product images except the first one
Knowledge Base:
[Article update]
Royal Mail
[Article update]
Skroutz
[New article]
Xpress Delivery