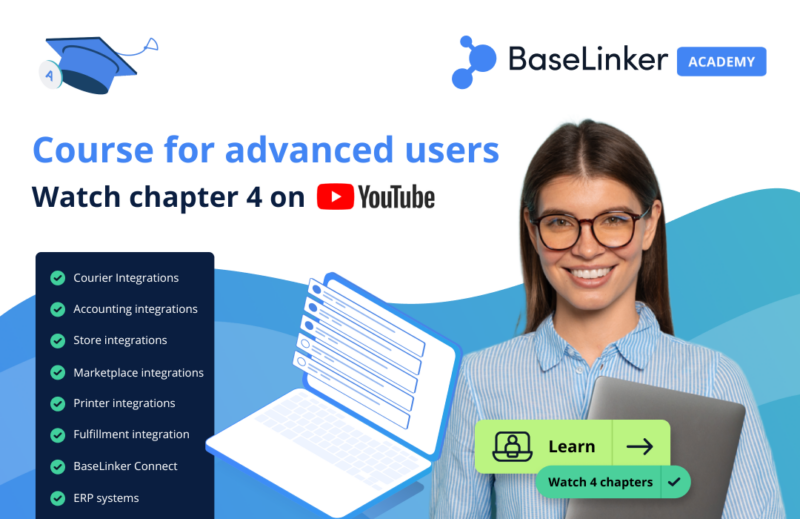 We are thrilled to announce another new chapter of our BaseLinker Academy Advanced Course. As we continue to delve into the comprehensive functionalities of BaseLinker, this new chapter brings a focus on enhancing your account with a range of integrations, each designed to streamline your e-commerce operations further.
🚀 Watch 4 chapters of "BaseLinker for advanced users" course today! 🚀
In line with the preceding chapters, Chapter 4 is equipped with instructional videos and quizzes to ensure a comprehensive learning experience. Each segment of this chapter is crafted to help you harness the full potential of BaseLinker's integration capabilities, aligning them perfectly with your business model.
Chapter 4: Elevating Your E-Commerce Game with Integrations
Dive into the wide array of system integrations available in BaseLinker. This chapter will guide you through implementing these integrations, enhancing your system's efficiency and opening up new possibilities for your business. What will you learn?
Courier Integrations: Learn to seamlessly integrate the most popular shipping companies (e.g. RoyalMail, Amazon Shipping, Parcel2Go) into your BaseLinker panel. This module is a game-changer for shipping and logistics, ensuring smooth and efficient delivery processes.
Online Accounting: Integrating online accounting tools with BaseLinker not only simplifies your financial processes but also provides real-time insights into your business's financial health.
Connecting Your Store: Explore the steps to connect your online store (WooCommerce, Shopify, Magneto and others) with BaseLinker. This integration is a cornerstone for centralizing and streamlining your e-commerce operations.
Connecting Marketplaces: Discover how to connect various marketplaces (Amazon, eBay, OnBuy, Zalando) with your BaseLinker account. Start selling on multiple e-commerce websites to amplify your market presence.
Integrating ERP Systems for Holistic Management: Explore how ERP systems can be integrated with your BaseLinker panel to create a comprehensive business management solution.
The Potential of BaseLinker Connect: Get to know BaseLinker Connect, a solution to streamline collaboration between business partners.
And there is more! Chapter 4 of the "BaseLinker for advanced users" course will also shine some light on Google Drive Backup, optimizing communication with BaseLinker Caller, direct printer integrations, Responso as well as Fulfillment Integration. Watch it now!
Whether you're a seasoned e-commerce professional or a budding entrepreneur, the 4th chapter is tailored to elevate your business operations to new heights. Stay tuned! More chapters are coming soon as well as latest updates and additional resources.